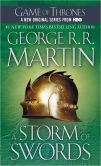 Here is another round of abridged reviews, and go...
A Storm of Swords
by George R.R. Martin
–
5 hearts
This book was so CRAZY! I never knew what was going to happen next. George packed this book with so many twists and turns that it left me a nervous wreck. I cried, I screamed and my jaw hit the floor. I also have to say Bravo Mr. Martin for taking a character that I loathed and made me feel sympathy for him and then even admiration. Fantastic character development in this one and that ending...HOLY WHAT??
Dune: The Butlerian Jihad
by Brian Herbert and Kevin J. Anderson
My friend Geoff has been pushing me to read this series for awhile now. Science Fiction is a bit out of my comfort zone so I wasn't sure how it would go. Now that I'm finished I'm still not sure how I feel about it. I found some elements confusing, others a bit boring but was pleasantly surprised to find out there was a romantic element as well. However there were several plot lines that upset me and I may be scarred for life now.
From outsourcing her personal assistant, to crazy PTA moms, Seattle mudslides and a Xanadu reference, this book was quite entertaining and provided plenty of giggles. A quirky and interesting read that I was in desperate need of.
Pandemonium
by Lauren Oliver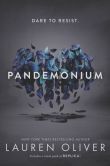 Yeah, I'm not going to rate this book right now. I just finished and I so knew that was going to be how it played out. Lame! I'm officially done with YA for awhile.
*Side note* I have had some time to cool off and read some adult books. I will jump back into YA soon but will definitely be avoiding books that push my trigger button and make She-Hulk come out.
Paper Valentine
by Brenna Yovanoff –
4 hearts
I always like when a book surprises me. At first I wasn't so sure I was going to be able to get into this one. The writing style was unique however I felt like there were lots of elements vying for my attention. With that said though, the pacing was a bit slow. I stuck with it though and by chapter ten I was really fascinated. After that, the pages were easy to turn and the story flowed really well. Lastly, I like when the author keeps my guessing and the mystery isn't obvious to solve. Bravo to that. I am very interested to read more by this author now.
Side note: I had the opportunity to meet Brenna this past weekend. She is as quirky and unique as her writing. Delightful!