This is a meme brought to you by Sara @
Forever 17 Books
. "Inspired by an article on Babble called,
Judging a Book by Its Cover: A 6-year-old Guesses What Classic Novels Are All About
, I have asked my 6 year old what his thoughts are on a few Young Adult covers lying around the house. To take it a step further, I also had him make some cover art!"
D has been having so much fun with this feature. He looks forward to it every week, as do I. Thank you all for the wonderful comments and feedback. He is quite tickled at the response. Without further ado, here is this week's cover: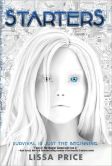 Starters
by Lissa Price
D says Starters is about a girl that is starting something...school maybe...like college.
Me: Why do you think she has two different color eyes?
D: Maybe she went to space.
Check out his cover art below.
Cover Art:
Well there you have it. I thought this was fun and I hope I can convince D to keep it up. So stay tuned and we shall see what other fun titles we can throw at him.
Thanks for stopping by. He is pretty excited to have his work featured on the blog.