First let me say that I'm so happy to be a guest on Stalking the Bookshelves, a blog I've followed for two years, run by sisters whose relationship I love to watch on Twitter. Thank you, Carrie and Shannon!
My writing routine was a lot more chaotic when my four kids were small and at home with me. But now that they're young adults, my writing life is delightfully dull. In fact, I have a reputation among my friends for being a hermit. In my defense, I've discovered that if I leave the house, like to have lunch with someone, I don't work on my manuscript that day because of all my other house chores. Solution: no socializing!
In the morning I do typical mom things: I carry our ancient dog down the stairs (all 51 pounds of her), I unload the dishwasher, I have a cup of tea while checking my g-reader, make school lunches, find lost items for late people, and eat breakfast. Next, I exercise fanatically for a couple of hours, I take a bath, I answer e-mails and pay bills, and I finally sit down like a sack of potatoes to work for the rest of the day, punctuated only with trips to the basement to do laundry--lots of laundry--and trips to the front door for repairmen and UPS. (I accept packages for my working neighbors, so my UPS drivers know me by name as if I were a book blogger.)
Fairy Castle
Our house is affectionately known as the Fairy Castle. This is another reason it's hard to leave home: it is a light-filled and quirky Victorian. Our neighborhood is like a small town in the middle of a bustling, vibrant city.
Jogging w/ Eric and John
My first exercise of the morning is 3.5 miles of jogging. There is always a son or daughter or more with me (that's my son on the left), and often my husband joins us (on the right). It wasn't until I saw this photo that I realized exactly how short I am. What a blow!
Promontory Point
The jog takes us to one of my favorite places on earth, Promontory Point. Most of Monstrous Beauty was brainstormed on jogs to the Point with my son Eric and my daughter Sally in the summer of 2009. I dedicated the book to Sally and Eric, but I probably should have given the Point credit for inspiring us.
The Swimming Hole
In warm weather, we stop at the Point and swim for twenty or thirty minutes.
Swimming w/ Bikey
That's my teenage daughter Lydia running alongside me in the water. Always the wise guy.
I also play tennis about three times a week. (Yes, I still jog on tennis days, and in the summer I sometimes jog, swim, and play tennis. What is wrong with me?) My brother, who's my absolute favorite tennis partner, took this shot. When I win an especially long point against him, he gives me the finger.
This is where I'm supposed to work during the day--my glorious office on the third floor.
This is where I end up working instead. I like to be around my family while I write.
Eventually I get up off the couch to make dinner. Now that my kids are young adults, they love to cook, too. Let me tell you, many hands makes ridiculously light work. Suddenly all those years of changing diapers are paying off in spades. This is a typical dinner for us...heavy on the vegetables, with an Italian flare.
And this is why I have to exercise so much. Lydia makes stuff like this every Sunday, and sometimes during the week, too. And as you saw in the second photo above, I'm approximately as tall as a fire hydrant, so I have no where to put this stuff.
After dinner we all clean up the dishes, and then we watch a movie as part of our nightly movie tournament, also known as "Movie Times." Movie Times is a great way for us to be together, but it cuts into my reading a lot, making me practically illiterate, which is a little embarrassing when you're supposedly an author. Plus, the movie tournament is rigged so that I never win it.
When I said I do a lot of laundry, you probably didn't get the correct visual in your head.
Follow Elizabeth Fama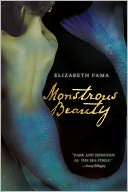 Available Now from Farrar, Straus and Giroux

Thanks so much to Beth for taking time out of her busy schedule (w/ a new book and tour to prep for) to write this post. One of our favorite things about blogging is meeting new people and forming fabulous new friendships!